Presenting in English for Business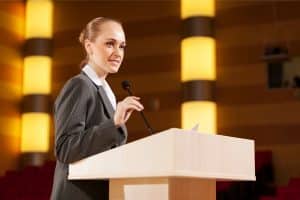 Do you need to give a presentation for work? Are you a business professional who presents regularly to people whose mother tongue is English or clients and colleagues whose common language is English? (meaning they are non-native speakers but all speak English at some level). Are you a professor or lecturer who speaks internationally in front of an auditorium filled with colleagues and students? Speaking English in a business setting is very demanding. You need to be able to express yourself clearly and concisely using formal words and phrases and be able to discuss your topic of presentation articulately in a professional environment.
When you present English there is usually a formula to the way the presentation is presented. There is also a style to the language you use to get your message across. You are discussing concrete facts rather than abstract ideas. Your presentation needs to flow in a certain way and signal what is coming next. Our presentation courses address all these factors and provide you with everything you need to present concisely, confidently, and professionally.
Taylingual offers two Business English Presentation Skills courses.
We offer each client an individually customized quote based on their needs and challenges. Our lessons typically start at $75 per hour and our packages are slightly less. We speak to each and every client first to determine their level and requirements before we discuss the cost of service.
Business English Presentation Skills Course 1
Presentation Course #1 is a one-week intensive course that goes over presentation skills, writing a presentation, practicing your delivery, and preparing you for Q&A (question and answer) sessions that follows.
Business English Presentation Skills Course 2
Presentation Course #2 is a two-week course.  The two-week course gives you more time to focus on your goals and offers additional time to study and practice to provide you with a greater level of comfort when you deliver your presentation. We also focus more on the language you use, how to introduce new topics and how to transition well in different ways.
Course goals are outlined specifically for each individual client and tailored to your needs, level, and language ability.   We recommend the two-week course if your presentation/speech is long and complex. This gives you the time to practice your delivery until you feel comfortable giving your presentation.